One of the interesting things about the wonderful world of SEO is that we all start at ground zero, mainly thanks to a lack of official courses and/or certifications. From experience I'd hazard a guess that you learnt the dark arts of SEO via a combination of colleagues, online guides or maybe even a book!
As you probably recall this 'training' doesn't last for long, soon you realise that to become really knowledgeable about SEO you're going to require more information, more input!
You'll start by checking out a few SEO news sites like Search Engine Land, Search Engine Watch and probably told to read the SEOmoz beginners guide (if you have only been doing SEO for 1-2 years and not been told to "read this" by your manager then I'd be surprised) The sites mentioned above are great resources and you could definitely learn how to do a half decent job through just reading them alone. However sooner or later you will either be told about or stumble upon a special thing, an SEO rockstar blog.
It's love on first site (lol) even on the first view you can't help but be impressed. The number of posts, comments, tweets and likes is something to behold! Before long you are reading their posts from 2005, searching for guest posts, looking for more input, this person is a genius, how could I get them to talk to me, listen to me, even just once, is this too many comma's, THIS ISN'T A CRUSH!
Worry not dear reader, here is a step by step guide to catching your favourite SEO's eye! In fact I pretty much guarantee that if you follow the steps below you will be best pals in no time!
Plan, stalk and covet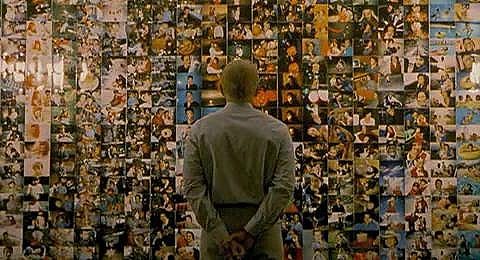 Step 1 – Follow them on all possible social media channels
You know the usual suspects – Twitter, Google+, Facebook, Linkedin. If you are struggling for additional ideas maybe look into Knowem? Nothing says 'committed potential ally' more than reaching out to you FSEOR via a niche social media account. Hello Stardoll!
#Pro tip – Review their name via the Knowem social search to see where they currently don't have an account. Create personal accounts on as many sites as possible and play the waiting game. Once they get in contact, you can either hold the account to ransom (a risky strategy) or hand it over. "Oh you do SEO? Wow what a coincidence so do I!" Great idea eh?!
Step 2 – Befriend their friends
So you now know each and every one of your FSEOR's favourite haunts. Now it's time to stealthily gain trust within their clique of friends! Start by following their closest allies online. If they are popular (I'm sure they are) you will be able to find plenty of their friends to converse with via social media. If you are struggling  to find many, maybe check out their blog link profile and review any site linking to them that are SEO orientated.
Once you know where they hangout and who they talk to the next step is getting yourself out there. Some SEO's like to gain attention by debating ideas, algorithm updates and theories whereas I prefer the classic approach of brown nosing. Retweet, like, comment and compliment as if your life depends on it! Don't worry if they don't get back to you initially, some people play hard to get.
By remaining tenacious, calculating and motivated you will reach your goal. One day you'll wake up, instantly check your phone and see that beautiful interaction, they are now following you. Hahaha, You now have them where you want them.
#Pro tip – Give the friends of your FSEOR all of your secret SEO tips and ideas, offer to work for free, do their washing, take their kids to school, remove their links manually. Whatever it takes to join the inner circle.
Step 3 – Hate their enemies
Are you sat down? This may come as a shock. It is highly likely that there are people that dislike your favourite SEO rockstar. This hatred will either be due to immense jealousy or because they're an opinionated arsehole. In your case I wouldn't worry, I'm 99% sure it's the former!
So how do we find the haters and what do we do to them? Haters will be found making negative comments on blogs and via social media and will usually hold a different viewpoint to your FSEOR (the numbskulls).
The next vital step requires patience and good timing. Use your feed (discussed later) to track what your FSEOR is doing online and make sure you're ready to jump in if and when an argument begins, don't worry, your gut will tell you when the time is right. Take a deep breath, this is where you earn your stripes. When attacking the enemy the more vicious, vocal and personal the attack the better. Don't worry whether your FSEOR is in the right or not, protect them with your online persona life.
Post argument your FSEOR will now be wondering "Who is this person? They seem cool, friendly and smart. I'll be looking out for them in the future." This is unlikely to lead to a follow or linkedin request but worry not we've got more tips for you below!
#Pro tip – The haters are unlikely to understand your subtle, sophisticated humour so I would recommend to go obvious and malicious. Remember this is war, how will you decapitate your opponent? I have found that a combination of online and offline threats usually do the trick (if your threats aren't getting the desired effect don't be afraid to consider kidnapping their close relatives, this will of course require some time consuming research but remember the goal and you'll be fine). 
Catch the Eye
Step 4 – Get involved with every one of their discussions (even if they are chatting privately)
In fact particularly if they are chatting privately. Now you don't want to show that you are too keen so ignore the other people they are talking to, the topic of conversation and casually mention how much you love their brand/website/haircut. If you're feeling brave mention that you've read every one of their posts. Make sure that this is only a brief exchange, quickly in, express thoughts, logout. Always keep them wanting more.
#Pro tip – Create a feed that follows their every move online, this can be easily created. I recommend that you check this every 3 minutes or so, it's unlikely you're doing any work anyway. If you are smart enough perhaps develop an app that can follow their every move offline? If not I've found foursquare does a fairly decent job. Remember data, data and more data.
Step 5 – Write an article about your favourite SEO
Write a sycophantically cheesy article based around how great your FSEOR is and why they are one of the finest SEO's ever. Make sure that the post is 100% serious and try and only mention positives. Ideally you would do something similar to the recent and highly successful Rand Fishkin infographic.
I recommend you find online quotes from other SEO's to give the post that real 'resource' effect. If these quotes don't exist make them up, everyone skim reads these days.
#Pro tip – Photoshop an image so that it looks like you are regular pals try and do it so that you are at a pub or a conference or wherever real SEO's chat and do that friend stuff. 
Sure fire winners (or enter friendzone!)
Step 6 – Apply to work for their company
It's highly likely that your favourite SEO either owns an SEO company or works for a pretty good one. Imagine how much time you could spend together chatting about link building outreach, inbound marketing and other exciting stuff, if you worked together!
Rewrite your CV, over exaggerate everything that you have ever done, lie about working with massive brands, create fake case studies and send it over. You'll at least get an interview…
#Pro tip – Eager for the job? Apply in person, at their home address, at night, wearing only a balaclava and wielding a freshly filed crowbar. State, in a clear and friendly manner, your name, the time of your appointment and the name of the person you expect to meet.
And for gods sake give them a firm handshake, first impressions are important!
Step 7 – Arrange for them to speak at a conference (that doesn't exist)
Now hear me out, this one is a little elaborate. You've gone through the first 6 steps and haven't got anywhere. If the following doesn't work, maybe it's not meant to be?
First off create a website for a conference www.shipping4SEOlove.com (free link for someone there, don't mention it) sounds pretty hip. Pay someone on fivver to create a slick website and you're away!
Pay for someone to create 50-100 social media accounts & find 5 people to look after 10-20 accounts each. (we'll get back to this later)
Write fake testimonials from other favourite SEO's who describe your excellent conference. Maybe throw in a few lower level SEOs to make it look legit. *Important note* Make sure that the conference speakers list features  SEO's that your favourite SEO respects but isn't friends with. Be careful to do your homework, choosing an SEO enemy could also see your plans blow up and you don't want all your hard work going to waste now do you?
To minimise risk get in contact with their PA (lol if your favourite SEO doesn't have one) but do it with a month to spare, giving them enough time to move things around to accommodate your kind offer and you with as little amount of time for them to find out the sick, psychopathic truth.
Think about a generous sum for any speaker to talk at a top conference. Then offer double. Don't worry you are never going to actually pay!
'Operation Shipping Buzz' – On the day of your offer get your social team to hammer Twitter, Google+ et all. #Shipping4SEOLove seems like the one to go for. Your favourite SEO will not be able to miss it! This is legitimate quality buzz!
Book them a room in the most expensive local hotel. Wait for them to arrive, give them an hour, get changed into a waiter's uniform, knock on their door claiming to be room service. Once inside approach them with a cloth and ask "Does this smell like rohypnol to you?"
Tie them up.
This now depends on your personal goals. Who am I to say what you can and can't do with your favourite SEO? Have you seen the film Inception? I like to create an idea in peoples minds that I am a competent and useful SEO. It appears to have deceived a large number of people!
Leave nothing behind, remove all evidence and delete anything online to do with the conference/website. Your FSEOR is now under your thumb and will converse with you at the drop of a hat. Turns out they're boring as shit, oh well on to the next one.
I'm Getting Fucking Desperate Over Here!

I'll be honest if none of these steps have worked you're probably not trying hard enough or are socially retarded. Either way I have a few more ideas below.
Buy shares in their company – This one is quite simple. Sell thousands of ebooks to buy into your FSEOR's company. Become a director and get to work with them every day!
Link to them with interesting anchor text – Once in a while your FSEOR will review links pointing to their sites/blogs. Catch their eye with either humourous or bizarre anchor text.
PPC Advertising – Your sycophantic post (step 5) about your FSEOR will be on it's way to #1 for their name so how can you make sure that you are maximising the SERPs to it's potential? That's right paid adverts!
Well there you have it, truly quality content on how to become best friends with your favourite SEO rockstar. Now as you probably know I'm all about sharing and community so if you have any cool ideas that can be added to this amazing resource please don't be shy and I will endeavour to add them below.
If you liked this post (unlikely) check out 'The Classics!' section, jam packed with irrelevant content.
The Community Speaketh:
How to Befriend Your Favourite SEO Rockstar!

,